Published October 4th 2016 by Mike Bazuin
---
Twitchcon Day 2 Recap
Twitchcon is over and we have time to recap the Twitchcon days! Let's get started with Day 2! Mrs_Mulligan joined by Mikella started off the Day 2 streams! QueenE Followed shortly after Mrs_Mulligan. She was also joined by Mikella for the information on the game! DJTechlive was next and had assistance from Jeannie. With Shardbound gaining quite the traction on Twitchcon, some streamers even decided to join the empty timeslots themselves. Like Mrhappy1227 for instance! Day9tv followed him up and was joined by Gasty. Swiftor was up next and Dibs was helping out when necessary! With an empty timeslot, Zalgus and Neccobus decided to stream the game themselves for some time.

The day started of with Mrs_Mulligan! During the stream Mikella dropped quite some knowlegde bombs. For instance one of the potential ideas for streamer and viewer interaction is to have streamers share their decks with their viewers! Also Mikella answered a question from chat that was asking for a potential release date. There is no set date yet, but they are aiming for a 2017 release! There will also be a competitive ladder system included but have no fixed plans yet for how it would look.

Deck size limit is 30 cards with a maximum of 2 per card. But legendary cards have only a max of 1 card! Right now you can't interact with your opponent yet, but eventually they will add emotes to interact with your opponent!

In QueenE's stream Mikella couldn't stop dropping information! She mentioned that keeping a good balance between ranged and melee is working better than focusing on one specific card.

Jeannie mentioned in DJTechLive's stream that currently there is a rough estimate of 300+ cards in the game! Currently the VO line for the Wrenchman is still placeholder and is done by the lovely Neccobus himself! Jeannie herself did also some VO lines.

A fair warning was given as well during Mrhappy1227's stream, because if you can't have more than 10 cards in your hand. So don't stack too many in your hand! Also with streamers able to give viewers decks, viewers can submit decks to the streamers for review! Don't run too quickly out of cards as well though. You will have Lava spawning on your end of the map when you don't have any cards left in your deck!

During Day9tv's stream Gasty confirmed that there are multiple maps in development already! However for a competitive aspect they won't have randomly generated maps in PvP. But he didn't rule out what could happen for fun content!

When you play on a streamer's shard you will earn reputation for that streamer. Streamers can set rewards for reputation levels that viewers can unlock for themselves! Maybe on a sadder note for those who couldn't go to Twitchcon: Twitchcon attendees will have priority for alpha access which should still come this year and beta early next year as rough estimates!

During Swiftor's stream there wasn't much new information dropped, but we did get to know that Swiftor and Futuremangaming, who streamed on day 3, were the first outsiders to test the game.

After that succesful streak of games by Swiftor, he went 6-0, Zalgus and Neccobus streamed some of the game themselves. Immediately dropping that one of the voice actors is Leah Russo who voices the Penumbran Assassin and Rankbreaker! Neccobus also shared that even though he is at Twitchcon, he still records some sounds that he could use. An evil sounds that he likes to use is the sound of his Mom's Dishwasher!

Zalgus mentioned that lorewise if a minion dies their energy will return to the weave. Something that Zalgus is excited for is writing more VO lines! A question from chat was of what faction would you like to be part? Zalgus would go for the blue faction with the reason that they get their wisdom by experience (and also because messing with time and space is neat). While Neccobus would go for the Red Westgaard faction.

Of course there was some amazing art dropped as well during the day!
Nicholas Kole dropped some concept art for Vardan, right here!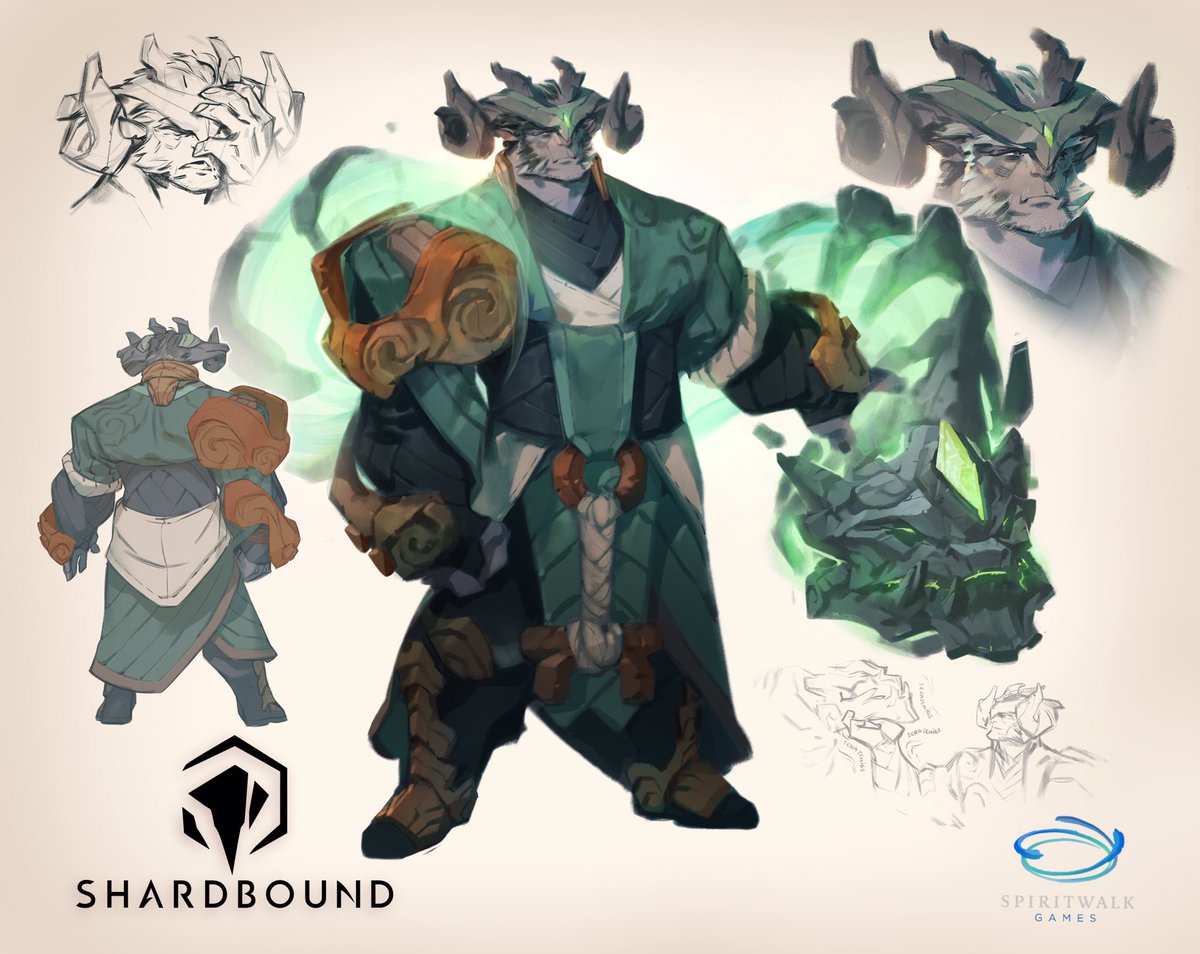 He also showed some amazing speedpainting of Petra Westgaard, which you can find here

Furthermore, Oskar Kuijken released some of the models that he has been working on. You can find them here
An example from the page: